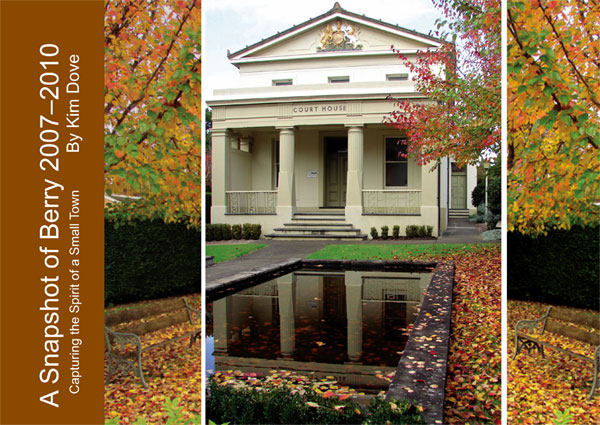 A SNAPSHOT OF BERRY 2007-2010
Kim Dove will launch her photographic book on Friday 26 November, 6pm, at the Berry School of Arts, Corner of Princess and Alexandra Streets. Berry.
This photographic book is an historic journal which captures the spirit of the NSW South Coast historic town of Berry, the people and the events over a four-year period.
"My aim for this project was to record the unique character of the community and township of Berry.  For a town with less than 4,000 people, this book  represents just a cross-section of the community.  My first idea was to have a collection of photos to be archived for futurer generations," says Kim.
Since beginning the project shops and businesses have come and gone, people have passed away and Kim soon began to realise how important the project was, not just to have a collection of photos, but to put them together in a book for everyone to enjoy and share.
"I believe this book and the thousands of photos taken will be a valuable record for future generations, an historic visual document to be shared and handed down to generations as a mark in time. I believe I have captured the spirit of Berry."
The book is a guide for visitors, and locals alike, an insight into the diversity of a small rural/tourist town and the many characters that live and work here.
Drinks, finger food and a sound/slide show of some of the characters and groups in Berry will feature at the event and books will be available for sale and signing by the author.