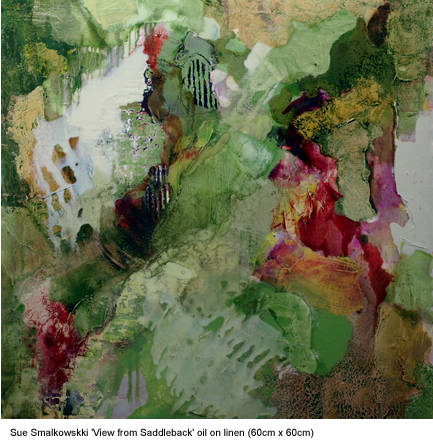 In two exhibitions, Sue Smalkowski and Mitchell English explore different aspects of the coastal environment.
Smalkowski's paintings portray both the minutiae of rock pools and the magnificence of the Illawarra escarpment. In this new body of work, Smalkowski has employed the subtleties of an accomplished watercolorist with her lush painterly oils to capture nature's intimate beauty and dark rugged sprawl.
As Smalkowski says 'the natural world is one of both order and chaos; a constantly evolving vista that draws the eye to its vastness but also to the finite.'
Mitchell English's works are graphic celebrations of east-coast beach culture. They bring to mind Fred Williams' landscapes, but rather than the naked bush English's are east coast landscapes, peopled by sunning bodies and surfers.
August will see artists, Sally Kidall and Patricia Goff. Sally Kidall's photographic series, Ant Works, documents her ephemeral environmental installations. This show will be held alongside WA's recently relocated, abstract landscapist, Patricia Goff. Ecology and cosmology are the common motifs in these works.
Sue Smalkowski and Mitchell English's exhibitions open on Saturday 24 July at 3.30pm at the Clifton School of Arts and will run until Sunday 1 August.
Clifton School of Arts
Lawrence Hargrave Drive, Clifton, NSW, 2515.
Open: 10am–4.30 pm